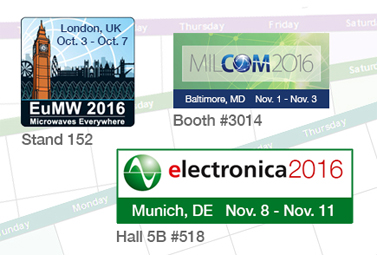 The Fall 2016 trade show season is about to kick off with European Microwave Week 2016 in London, October 3rd through the 7th. The leading European conference for all things microwave, EuMW2016 will feature three technology conferences and a trade exposition with exhibitors from around the world.
MILCOM, the leading international conference for military communications, now in its 35th year, will be held November 1st to November 3rd in Baltimore, MD. The theme of MILCOM2016 is "Securing Communications at the Speed of Cyber" – and the conference will focus on security issues related to the command, control, communications, computers and intelligence (C4I) challenges facing the military, government agencies and security professionals worldwide. In addition to providing a unique forum for education and the exchange of ideas, the conference will feature almost 30,000 sq. feet of industry exhibitions.
As the world's leading trade fair for electronics components, systems and applications, Electronica 2016 "Inside Tomorrow" provides visitors and exhibitors a unique opportunity  to see, with a global perspective, the state of the industry as it exists today – and where it's heading tomorrow. Held November 8th to the 11th in Munich, Germany, Electronica 2016 deserves a spot on your calendar. We hope to see you there!