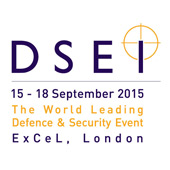 Held from September 12th to the 15th, the Defence and Security Equipment International Exhibition (DSEI) is one of those shows you have to see to believe. Apart from attracting over 32,000 people from 121 different countries to London, England, the event has to be the biggest "big boy toystore" for those shopping for the very latest military, defense and security products or services. And indeed, the show is recognized as the largest military show in the world.
Whether you come to shop, learn, sell, or network, one can't help but be impressed – if not overwhelmed – by the scope of this gathering. Consider: 1683 global defence & security suppliers from 54 countries; 42 international pavilions; 32,000 unique visitors.
This year the event was organized by unique "zones" – land, air, naval, medical, unmanned, and security & special forces, with the international pavillions providing a "home base" for most, if not all, of the world's leading defense and security companies and those that serve them. And this arrangement certainly made getting  where you wanted to go a bit easier.
For those that stopped by to say "Hello" – thanks for visiting Greenray. If you'd like to know a little more about us, be sure to visit our company website here.